Frederick Fauquier, first Bishop of Algoma
The following year Frederick Dawson Fauquier, Archdeacon in the Diocese of Huron, was elected as Algoma's first bishop. Fauquier had been born in Malta and had come to Canada at age 19 to be a farmer.



Thomas Brock Fuller, first Bishop of Niagara
The Diocese of Toronto was further sub-divided in 1875 when the Diocese of Niagara was formed with its see city in Hamilton. Thomas Fuller was born in Kingston, Ontario descended from Archbishop Loftus, one of the founders of Trinity College, Dublin. His wife's wealth allowed him to work gratuitously for many years. It was his wife who made the first contribution to the endowment to establish the Diocese of Niagara.

The General Synod of the Church of England in Canada was formed in 1893. Robert Machray, Archbishop of Rupert's Land, became the first Primate of All Canada.



Charles Hamilton, first Bishop of Ottawa
When the Diocese of Ottawa was separated from the Diocese of Ontario in 1896, The Right Rev. Charles Hamilton was chosen as its first Bishop. At the time, Bishop Hamilton had been the second Bishop of Niagara for almost 11 years. He had been born at Hawkesbury on the Ottawa River and had been educated at Oxford University, England.

The ecclesiastical province of Ontario was formed in 1912 when the dioceses of Algoma, Huron, Niagara, Ontario, Ottawa and Toronto separated from the ecclesiastical Province of Canada and the Diocese of Moosonee separated from the ecclesiastical Province of Rupert's Land. It stretches from the northwest of Ontario, through the civil province, and into the northeastern part of Quebec.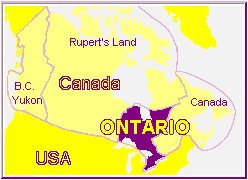 The Anglican Church of Canada is now organized into 4 ecclesiastical provinces: Canada; Ontario; Rupert's Land; British Columbia and Yukon.



The ecclesiastical Province of Ontario has 7 dioceses: Toronto (est. 1839); Huron (1857); Ontario (1861); Moosonee (1872); Algoma (1873); Niagara (1875); Ottawa (1896).